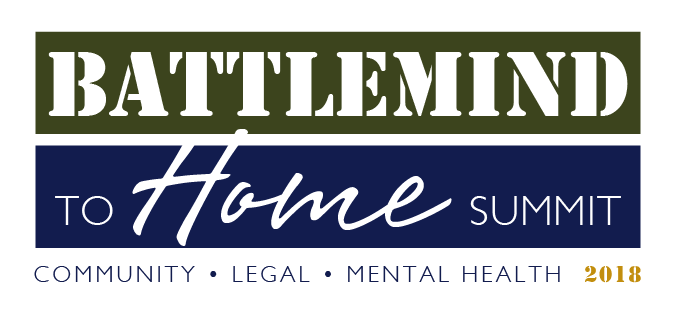 Registration
Overview
Agenda & Breakouts
Sponsorship
Keynote
Emcee
Registration
Registration timeline:
Early bird registration begins May 22 – Aug. 7, 2018 ($60)
Open registration is Aug. 8 – Oct. 1, 2018 ($85)
Registration the day of the event is ($95)
A room block at the Marriott East is available. Please visit the hotel tab for more information.

Join the conversation
Find information about Battlemind on social media by following MFRI on Twitter using #battlemindIN, and "like" MFRI on Facebook.
Program overview
The Military Family Research Institute, in partnership with the Richard L. Roudebush VA Medical Center, Indiana National Guard and the Department of Veterans Affairs is pleased to present the Battlemind to Home Summit, on Tuesday, Oct. 9, 2018. The event will be held at the Indianapolis Marriott East, located at 7202 E. 21st Street, Indianapolis, Indiana.
The Battlemind to Home Summit brings together a variety of experts each year to inform and educate Indiana professionals on the critical issues facing military-connected families in Indiana's communities. Our goal for this conference is to help reduce reintegration barriers for veterans, service members and military families. We work to educate attendees on the challenges military-connected families face, and also the opportunities and strengths they bring to our communities. This year the program will also focus on how veterans can be an essential part of their community.
Three tracks
MFRI uses a collaborative approach to plan and execute this event. With nationally recognized experts in all fields, Battlemind presents evidence-informed sessions that address many sensitive and cutting-edge topics. Past summit sessions have covered issues such as suicide, moral injury and community mobilization.
This year's featured content will address:
issues regarding legal needs and support;
how to address physical and mental health concerns; and
the tools needed to create a sense of community within civilian life for military personnel.
If there are specific topics you would like to see covered or speakers you would like to hear from within these tracks, please reach out to Christy Collette, flynn14@purdue.edu.
Partnership

Indiana State Bar Association and the Office of Court Services
Agenda

7:30 a.m.
Registration and resource tables
Light breakfast and refreshments
8:30
Welcome
Brian Hancock, VAMC Director
Pledge of Allegiance and National Anthem
8:40
Veterans Administration update
9:20
Plenary Keynote Speaker: Sgt. 1st Class Gregory Stube (Ret.)
10:15
Break and resource tables
10: 30
Breakout session I
12 p.m.
Lunch and resource tables
1:15
Breakout session II
2:15
Break and resource tables
2:30
INNG Rapid Needs Assessment Report
3:30
Afternoon plenary
4:15
Closing remarks
4:30
Summit end
Agenda is subject to change
Breakout sessions
Suicide gatekeeper training
Question, Persuade and Refer (QPR), three steps anyone can learn to help prevent suicide. Just like CPR, QPR is an emergency response to someone in crisis.
VA claims bring calm to veterans
This session will cover the benefits of working with professionals when veterans file VA claims. Participants can ask questions from multiple organizations who provide this service at no cost to veterans.
How engagement leads to enrichment
This session will focus on how Team RWB is enriching veterans around the country by connecting them to their community through physical and social activity.
Discharge upgrades
The type of discharge a service member receives determines eligibility for VA benefits, directly impacting employment opportunities. Attendees will examine the types of discharges and the strategies for obtaining upgrades.
Veterans Treatment Court – a mock court session
Veterans treatment courts (VTCs) are a type of problem solving court that accepts minor offenders. These courts address specific needs that traditional courts are ill-equipped to solve. This session will play out a VTC experience, providing concrete examples of how to guide veterans to successful outcomes.
Increasing community awareness about veteran families and caregivers
Families and caregivers play a critical role in supporting veterans during and after their military service. This presentation will focus clinicians' and community members' attention on this underserved population, which often isn't eligible for care at military or VA clinics.
Maximize the Influences of Veteran Treatment Court mentors
Mentors play a critical role in the success of participants in Veteran Treatment Courts. Attendees will hear from peer-to-peer and specialty mentors, while learning about best practices.
Counseling on access to lethal means for individuals in crisis
CALM: Counseling on Access to Lethal Means is a workshop designed to assist providers in implementing strategies to help individuals at risk for suicide and their families reduce access to lethal means, particularly but not exclusively firearms.
Building blocks for energizing communities
Purdue Extension Community Development will discuss their efforts with asset based approaches to community development and building capacity in communities to help increase community engagement and collaboration.
Office of the Indiana Attorney General assistance for service members and their families
This presentation will educate attendees on the range of Attorney General services available to protect citizens from consumer fraud and identity theft. Other topics include how to be added to a do not call list, how to obtain a credit report and to activate a credit freeze.
The ethics of representing clients with diminished capacity
This presentation will focus on the difficult ethical issues that arise when a lawyer's client is disabled with various competency levels. In addition, the presentation will address confidentiality issues that emerge when lawyers experience stress or mental health problems from the practice of law.
The ethics of representing clients with diminished capacity
This presentation will focus on the difficult ethical issues that arise when a lawyer's client is disabled with various competency levels. In addition, the presentation will address confidentiality issues that emerge when lawyers experience stress or mental health problems from the practice of law.
Join our team
Help military and veteran families! Your sponsorship will help Indiana military and veteran families by supporting Battlemind attendees.
Community mobilization scholarship ($85): With your help, providers unable to attend due to financial constraints will be able to participate in Battlemind. This sponsorship covers the cost of one attendee. Help provide critical training to those who work directly with military and veteran families, and equip service providers with current evidence-based information.
Information tables ($250): We make available a limited number of information tables for participants to visit during breakfast, lunch and breaks. Sponsorship includes registration for one table attendant and helps spread the word about your organization.
Event programming ($100): Sponsor speakers, and help defray Battlemind costs with your donation.
Spread the word ($100): Help us reach a wider audience with a contribution that will help Battlemind have a wider impact throughout Indiana.
Sponsorships include organizational recognition throughout the day. Additional sponsorship opportunities are available upon request. Thank you for your interest in supporting Battlemind to Home Summit. We look forward to your participation.
For more information, please contact Christy Collette at flynn14@purdue.edu.
Keynote speaker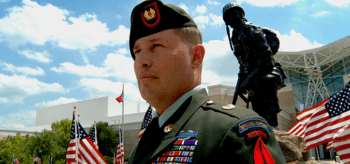 Sgt. 1st Class Gregory Stube (Ret.), USA followed the family tradition of pursuing a career in the military. In 1988 he enlisted in the U.S. Army Infantry, four years later he was selected for the Green Berets. He was trained as a Special Forces Medical Sergeant, 18D, where he was proficient in surgery, anesthesia, trauma management, pharmacology, minor dentistry and veterinary subjects.
Stube was assigned to the 10th Special Forces Group, where he served on several tours of duty throughout the 1990s. In 2001, he became an instructor at the John F. Kennedy Special Warfare Center, where he spent four years teaching those who would one day save his life.
While serving in Combat Operations in the Global War on Terror, Stube was wounded in Afghanistan during Operation Medusa. Stube's A-Team encountered overwhelming numbers of Taliban fighters in The Battle of Sperwan Ghar, which lasted over a week.
Stube's wounds from a remotely detonated IED and enemy fire seemed fatal, but instead he survived to endure months of hospitalization and surgeries. Huge wounds to his abdomen, hip and pelvis eventually closed, his nearly severed leg was restored, and extensive full-thickness burns were grafted.
Stube has since retired with 23 years of service, to become the host of his own television show on NBC Sports, "Coming Home with Greg Stube." Since the conclusion of the TV series, public speaking, consulting and charity work have made up the bulk of Stube's life after the military, with a focus on youth training and development. He currently serves as a leadership presenter for the FBI and the FBI National Academy, in DC and Quantico.
Sgt. 1st Class Stube co-wrote "Conquer Anything", a Special Forces book focuses on leadership. The book is designed to help each of us achieve the highest goals possible in our professional and private lives.
Emcee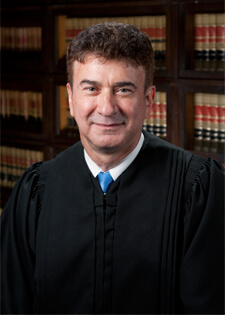 Justice Steven David has been a public servant for 35 years. He is the 106th Justice of the Indiana Supreme Court and is now the senior member on the court.  Before being selected for the Supreme Court by Governor Mitch Daniels, he was the Circuit Court Judge in Boone County for 16 years. There he presided over family, criminal, civil and juvenile cases.
His 28 years of active duty and reserve military service has included two post 9-11 deployments and three commands. He was a R.O.T.C. scholarship student and a Distinguished Military Graduate. He earned a RA Commission prior to attending law school. He received numerous medals and awards during his career, including the Defense Superior Service Award, the nation's third highest non-combat award, a distinction he shares with people like Colin Powell, Norman Schwarzkopf, Jr. and Admiral Harry Harris.
His father served in the U.S. Army Air Corps and the U.S. Air Force. His grandfather served in the U.S. Army and the U.S. Navy. His son also served in the U.S. Army. He is a frequent writer, teacher and lecturer. In his spare time Justice David enjoys family and friends, marathons, triathlons and mud runs.